Are you looking for the best outdoor gift for your friend who loves camping and hiking? Check out these 21 clever camping gift ideas.
1. Ultralight Backpack Cooler Chair

If your camper lover friend is a woman, why not to gift them this Ultralight Backpack Cooler Chair.
Yes! the name suggests right, It is a backpack, a cooler and a chair too. A fun 3-in-1 design Which will make anyone's life so much easier on an outdoor trip.
---
2. String Art Camping Sign
Allow your recipient to showcase their camping love at home with these cute string art camping sign.
---
3. Solar Power Bank
This solar power bank is a must-have item that will make your life easier on your camping or hiking trips.
---
4. Sleek First Aid Flashlight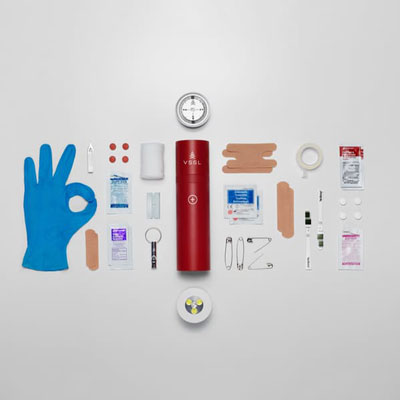 Just like food and water, a first aid kit is a must while traveling in outdoor areas. But this first aid kit is so special, it is actually a LED flashlight packed with ultra-packable medical essentials.
This military grade first kit has everything from bandages to antiseptic wipes, essential tablets to medical tapes, etc in a sleek weather resistant aluminum casing.
---
5. Portable Wood Burning Campstove
You can use solar stoves in daylight to get electricity but what about nights?
This handy and eco-friendly Campstove does the job. It converts fire into electricity, not just allowing you to cook but you can also charge your gears like phone, lights, etc.
Get it from Bio Lite Energy for $129
---
6. Portable Mosquito Repeller
Mosquitoes are one of the irritating problems you may face while traveling.
Protect yourself from mosquito bites with this Portable Mosquito Repeller. It basically creates a scent-free 15-foot protection zone.
---
7. Portable Camping Quad Chair
Introducing portable quad chair which is collapsible, comfortable, comes with a 4-can cooler pouch.
With over 5500+ highly rated customer reviews this Amazon best-seller camping chair is just perfect for any camper lover.
---
8. Petit Pocket Blanket
This feature packed petit pocket blanket is tiny enough to fit in your pocket. But once it is in action, can easily fit 2-4 adults.
This water and puncture resistant pocket blanket shows exceptional performance in water and sand conditions.
---
9. Outdoor Emergency Survival Kit
Every camper, hiker or traveler has a checklist for camping essentials. And this Outdoor Emergency Survival Kit is one of the necessary items of the list.
This 13-in-1 survival gear contains everything including compass, flashlight, credit card knife, wire saw whistle, etc.
---
10. Multi-Functional Drinking Water Bottle
This drinking water bottle lets you do a multifunctional task with its three different spray settings.
The spray can help you and your pets stay cool and hydrated, cleaning your gears, washing your hands, misting plants, etc.
---
11. Marshmallow Roasting Sticks
If your friend is planning a family camping trip or any outdoor trip with the family, nothing better than gifting this marshmallow roasting sticks.
This one gift will help them enjoy the delicious side of camping.
---
12. Lightweight Portable Hammock
A highly rated hammock on Amazon with thousands of happy travelers. Available in several different colors.
---
13. LifeStraw Water Filter
A highly reviewed product on Amazon that can be your lifesaver on outdoor adventures activities.
This super light gadget removes 99.9999% of bacteria and also protects you from parasites, and microplastics.
---
14. Life Is Better in a Camper Mug
Adorable gift for a camper friend who does camping a lot especially in RV.
---
15. Glow in The Dark Silicone Glasses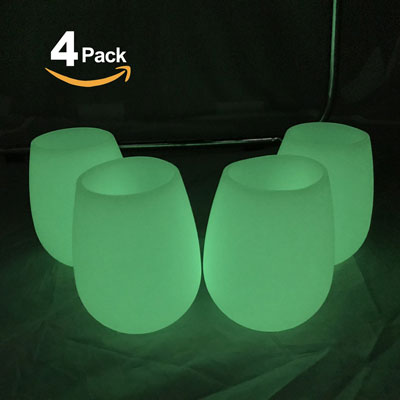 These silicone wine glasses glow in the dark are a wonderful gift idea for camping and hiking lovers.
---
16. Solo Stove Portable Campfire
Portable campfire stove is perfect for cooking while camping. It is super portable and lightweight plus it also minimizes campfire smoke.
---
17. Dog Bowl Water Bottle
If your 4-legged friend also traveling with you, then this dog bowl water bottle will be so handy to keep your companion well hydrated.
Get it from UncommonGoods for $15
---
18. Deluxe Flannel-Lined Sleeping Bag
A sleeping bag is something which is necessary if you are planning to spend your nights under the stars.
Get it from IIbean.com for $119
---
19. Coffee Percolator for Campers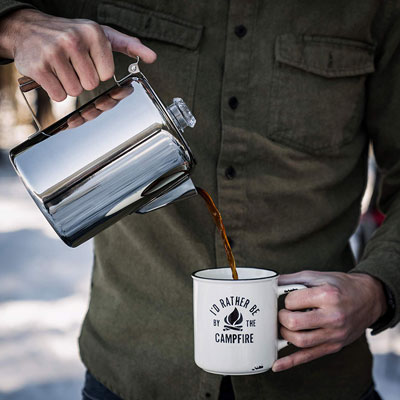 Don't miss your coffee while traveling! This camping-friendly Coffee Percolator is an old-fashioned way to make delicious coffee.
---
20.Cast Iron Skillet for Camping
This cast Iron skillet not just lets you cook but also camping enthusiasts proudly showcase this deer scene cast iron skillet.
---
21. Camping Cooking Gear
If you need a well-organized cookware set while traveling, this camping cooking gear is best for you.
This outdoor kitchen cookware has 24 items including spoons, forks, knives, spatulas, cutting board, containers, etc.
---
22. Camping Adventures Chambray Towel Set
A cute, simple, bright, colorful and charming gift for campers! An inspiring pair of burlap tea towel set for homey touched camping adventures.
---
23. Camper Planter
The van represents the home and plants represents nature, both combine represents the aim of camping.
And it shows why this miniature camper planter is perfect.
---
24. Black Diamond Iota Headlamp
The great adventurous outdoors can get pretty dark. This Headlamp will be so handy in that case.
---
25. Summer Solar Shower
Enjoy a hot shower on camping, hiking, hunting, fishing, and other outdoor adventures.