A bridesmaid is the first person who the bride wants to be a part of her wedding. They make your special day just perfect.
Your bridesmaid besties thrilled to be a part of your big day. They work hard at the wedding and the rehearsal. And it should be appreciated.
Bridesmaid gets the bridal shower and bachelorette party, but it's not good enough.
Now it's your turn to be grateful and show them some love. For this, you have to gift them something thoughtful and unique that rocks your bridal crew.
Finding a unique thank-you gift is not that easy. But still, there are many lovely and heartfelt gifts available to say thanks to your bridesmaid gang.
Check out some of these stylish and wonderful bridesmaid gift ideas; your girls will surely love.
21 Wonderful Bridesmaid Gift Ideas
Bridesmaid knee robe sets

Plumprettysugar knows it well how to style a bridesmaid to rock the party.
They offer a huge collection of picture-perfect knee length bridesmaid robes which come in many different prints and designs, from satin and lace to cotton and floral and many others.
Available at Plum Pretty Sugar
---
Fabfitfun – Beauty Subscription Box
Just gift her FabFitFun subscription box, which comes in with season's best beauty, fashion, & fitness products in full size, straight to your doorstep.
---
Bridal Sneakers
Be Comfy and Chic on your Wedding Day!
Switch your wedding day style from heels to shoes. And grab these stylish Bridal Sneakers which come in a wide range from sparkles and crystals to pearls and flowers.
More than 30+ gorgeous styles to find the perfect pair of shoes to wear on your wedding day.
---
Matching Makeup Bags
Pop out your bachelorette parties and wedding events with these matching Makeup bags.
This collection has 11 cute little makeup bags suits best for the bride and entire bridesmaids gang, available in 3 gorgeous color combinations.
---
Prosecco Pong Classic party Game
Decoration, celebration and games, that's the short definition of the party.
Add some fun to your bridal party with this classy game which includes 12 wide Prosecco glasses and 3 pink ping pong balls to rock your party.
---
Embroidered Eyelashes Sleep Masks
This luxury handcrafted eye mask feels so soft and blissful on eyes. Eyelash embroidery gives it a fringed effect.
You can also customize the colors to match your style for a bachelorette party or any pre-wedding event.
---
Cocktail Kit
Your bridesmaids play an important role in your wedding.
Thank them with this inexpensive cocktail kit gift. This kit comes with a spoon, jigger, elderflower syrup, and gummy bears.
---
Zodiac Jewelry Necklace
Gorgeous silver plated zodiac necklace for your gorgeous girls.
You will get a pendant according to your zodiac sign + an adjustable necklace chain.
---
Mermaid Bride Can Coolers
This adorable can cooler is perfect for your bridesmaids to use during the engagement party, bachelorette party, bridal party or any wedding event.
---
Monogram Jewelry Dish
These mini dishes are very useful to hold your jewelry like a ring or a bracelet.
It features your name initial monogram in a metallic gold finish that gives it a perfect personalized touch.
---
Spa Gift Card
SpaWeek introduces Spa & Wellness Gift Card to allow you to access 9000 locations for massages and facials to manicure to the pedicure.
That means a complete relaxation treatment and wellness makeover gift for your bridesmaids' crew.
Starts from $25 at SpaWeek.com
---
Bridal Party Matching T-shirts
Celebrate your bachelorette party and bridal shower with these customizable cute tees that will thrill every Bride!
Tees come in 4 different cozy colors and comfortable fitting.
---
Bridesmaid Beauty Gift Card
Pay for your Bridesmaid's gang for their makeup, hair and beauty makeover. Give them a gift card from a prominent beauty store like Sephora.
---
Knot Bracelet
Knot bracelet is a perfect thank you gift for your bridesmaid gang.
This minimal bracelet can be personalized with your bridesmaid's initials and the knot gives it a stylish look. You will also get a discount on bulk orders.
---
Bridal Dress Hanger
Add personalization touch to wedding hangers!
These wonderful hangers made with natural hardwood and can be customized with your bridal crew's names.
First-line reserved for the name and second for title/nickname in engraved form.
---
I Do Crew Bridesmaid Slippers
Enhance the coolness of your wedding photos with these "I do Crew" bridesmaid Slippers. Available here in 50+ different colors.
---
PreHeels Blister Prevention Spray
A beauty innovation award-winning product that will prevent blisters to save your feet on the wedding day.
---
Bridesmaid Totes
Your Bridesmaid will love this cute tote bag which looks so simple but the personalization makes it pop in the crowd.
---
Why I'm Grateful for You to Fill in the Love Journal
Express Gratitude to your bridesmaids' gang with this "Why I'm Grateful for You to Fill in the Love Journal" by Knock-Knock. One of the best-personalized gift to be thankful.
This little book is also a sweet and simple way to remind someone how much you care for them.
---
Cat Pearl Earrings
These earrings are so adorable! Available in 6 different colors.
---
Llamacorn Cactus Plant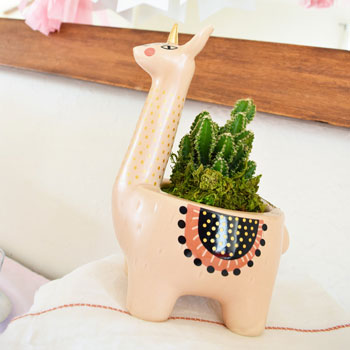 Succulent plant fits on every occasion!